Purchase a unique Eco-Friendly handmade gift
You've heard of SHABBY CHIQUE
You've heard of BoHo CHIQUE
Now, introducing the new
INDUSTRIAL CHIQUE from
reclaimed
materials
A selection of small Artworks made from upcycled materials & objects.  Choose from wearable art, magnets and home accents that pop and celebrate sustainable Green art.
See the gallery below for a taste of Green Artworks, click the shop now button for a full selection. Note: products are handmade and may vary slightly from the images shown.
Ways to Buy…
ORDER ONLINE

SHOP IN PERSON, Toronto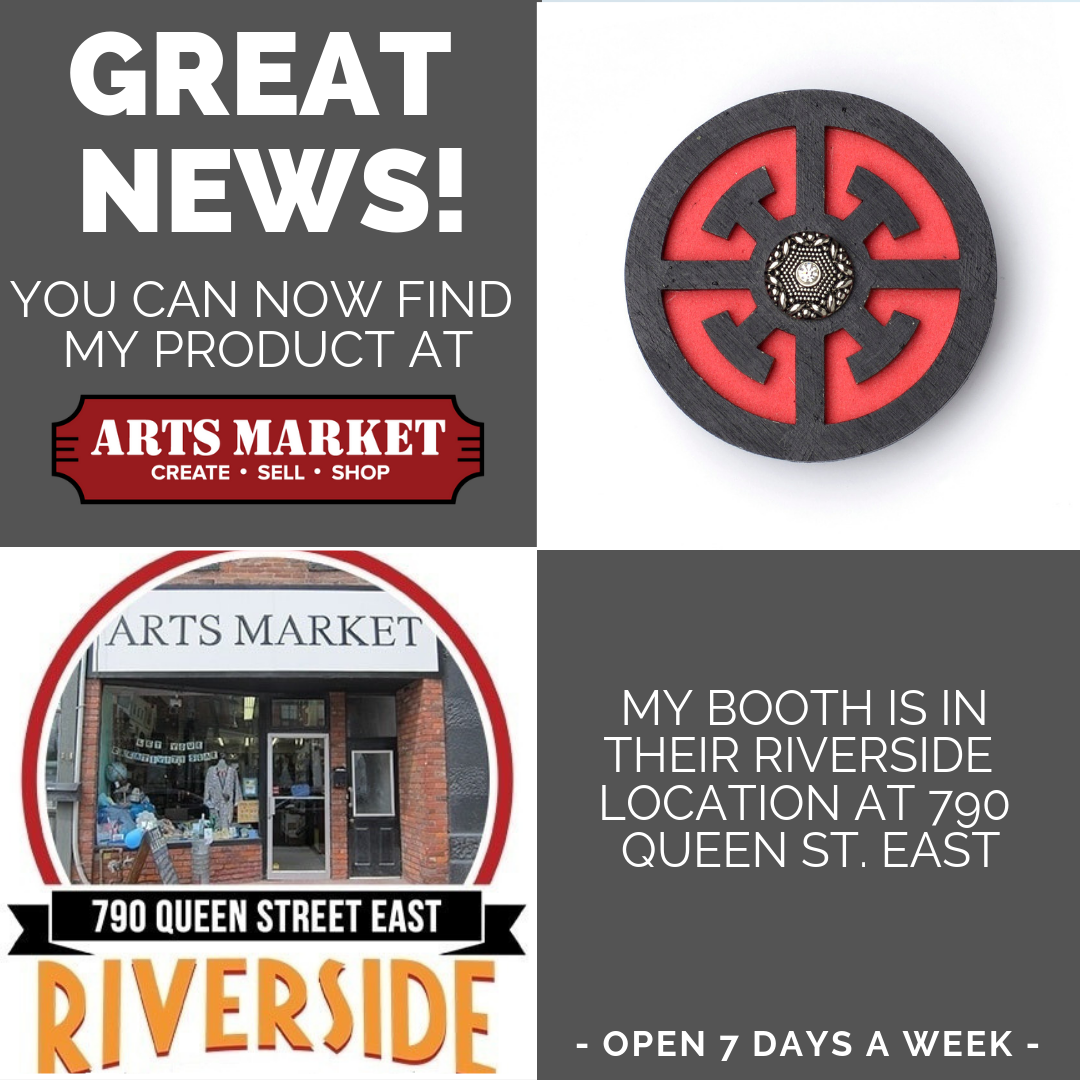 Contact me if you have any questions!
Here are some examples our work.  For details of our full selection please click the SHOP ONLINE NOW button located above
Magnets
Perfect for your refrigerator, locker or work lamp, our magnetic artwork is available in wood (1/4″/0.6 cm thick) and metal (5/16″/0.8 cm thick).   Magnets are 2.5″ (6.5cm) in diameter.  The backs can be seen above.
Upcycled Framed Canvas
Delightful little square deconstructed canvas reassembled by incorporating pieces of the canvas with new elements to create a perfectly upcycled wood framed artwork measuring 5″ x 5″  (3/4″/1.8 cm thick)  Ready to hang.
Brooches
Make a statement and pin wearable eco-friendly art to your favourite outfit. The wooden brooches are (1/4″/0.6 cm thick).   Brooches are 2.5″ (6.5cm) in diameter.  The backs can be seen above.
Pendants
Enliven your ensemble with an artistic pendant made from reclaimed materials. The wooden pendants are (5/16″/0.8 cm thick).   Pendants are 2.5″ (6.5cm) in diameter.   The sides/backs can be seen above.
 Framed Flowers
Fresh and Funky, ready to hang or stand on your table or desk.  All artwork is eco-friendly and made by repurposing scraps of fabric, odd buttons, screws & washers, springs & wire scraps and of course our favourite – the tin can.  No part of a tin can goes to waste at Green ArtWorks! The framed Artworks measure, 7 ¾" (20cm) high, 5 ¾" (14.5cm) wide and ½" (1.5cm) thick
 Framed Cupcakes
These iconic images are made from repurosed materials including tincans, button and scraps of craft materials.  They are assembled in salvaged shadow box frames. Ready to stand or hang – try placing on your desk to announce it's Cupcake Time !  The framed Artworks measure, 8.75″ (22cm) high, 6.75" (17cm) wide and 7/8″ (2.2cm) thick
Gallery
Custom orders welcome. Let's talk!