About me
I am a Toronto-based artist combining Art, Design, Textiles and Metalwork techniques with recycling to upcycle everyday items into Art pieces.
My MISSION is to create 'Green' Art, bringing the enjoyment and satisfaction of art and the rewards of recycling together in one activity to raise awareness that we can be simultaneously creative and earth friendly regardless of our technical, artistic or economic realities. I think of my Art as
–
ECO

 – 

LOGICAL

–

CREATIVITY

–
Artist Bio
Having studied Art & Design plus Textile Arts at North Hertfordshire Centre for the Arts in the U.K., I began to incorporate new more challenging materials into my work and took Industrial Design at the University of Hertfordshire in the U.K. I moved to Toronto in 2002 and learned Silversmithing and Metal Arts at George Brown College, Toronto. I am fascinated by the surprising fluidity of such a solid seemingly unyielding material.  
I work in mixed media – including metal, wood & textiles creating works with an industrial and minimal feel, both large and smaller scale. I allow the raw materials to speak for themselves selecting materials for their intrinsic qualities and grouping unexpected materials together in pleasing juxtaposition. My work has always been a form of 'minimalist' 'recycling' in the spirit of the readymade influenced by the work of Dan Flavin, Donald Judd, David Smith, Richard Serra and Richard Deacon; where commonplace objects and materials are presented to convey thoughts and ideas.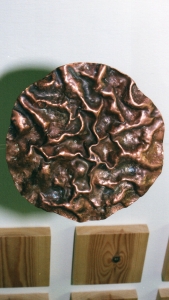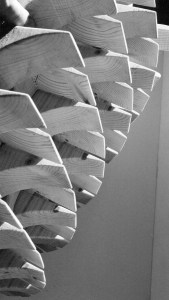 .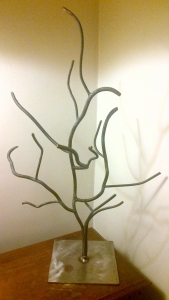 Today I incorporate many repurposed everyday objects into my art making my work realistic and self-sustaining in today's ecologically responsible lifestyle and because of the ecological element of my creations I have begun working these objects into smaller scale pieces to bring the world of ecologically viable art to a younger and wider audience. To this end I have been creating some fun pieces using repurposed objects inspired by nature, animals, traditions, celebrations & social formalities. Inspiration is also drawn from the symmetry, balance & textures of formal botanical gardens and even food in all it's glorious warmth, colour & spice along with the movement and reflections of flowing water and musical manuscript. My work is energized by my love of works by the great artisits such as Mondrian, Miro, Leger, Picasso for their vibrance, balance & symbolism and I adore the work of Barbara Reid for it's purity of detailed representation used to illustrate children's books.